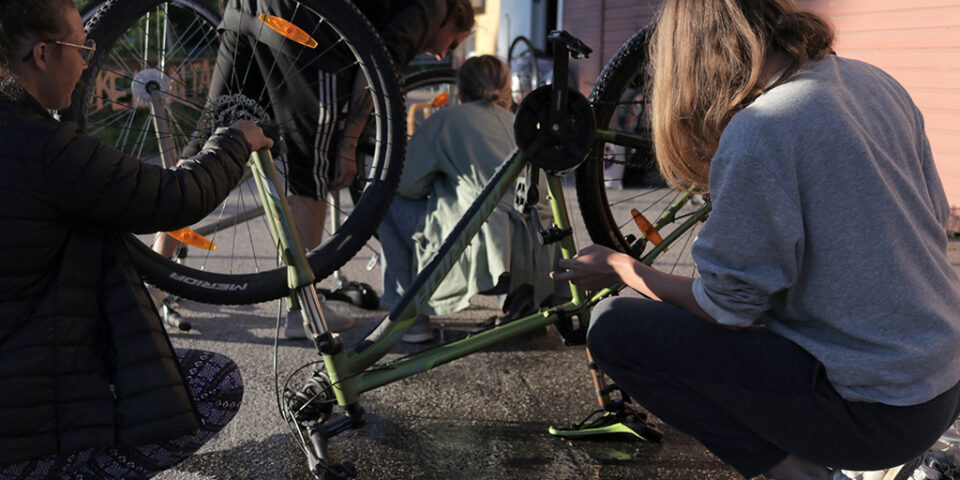 Cykeljuntan believes in you!
Umeås cykeljunta (in short: Cykeljuntan, i.e. The Bike Bee) is a non-profit organization, established in 2016 in Umeå, Northern Sweden. We want to help people learn to take care of their own bicycles by coming together, sharing knowledge and skills. Taking inspiration from the traditional syjunta (sewing bee), we see bike mending as a social event. We believe that each and everyone is capable of taking matters into their own hands, finding understanding and empowerment together within a supporting community.
Welcome to our workshop
You can find our workshop at Klintvägen 43, close to the hospital. The regular opening hours are Tuesdays and Thursdays at 18.00–20.00 for our members. No prior knowledge is required to participate. Just bring your bike, a good mood, and join the other participants. We help each other out and learn and teach at the same time. Tools and grease are of course available without charge. We have some spare parts on sale for cheap prices.
Become a member
Cykeljuntan is run by its members and depends on the engagement we channel into it. Each year we elect a board among ourselves to manage the administration, economy and development.
You can become a member to support us and gain access to our workshop every Thursday. You can also take part in planning and arranging activities. The membership fee is 200 SEK a year. Payment can be made through Swish 123 510 23 14, bankgiro 696 5537, IBAN SE61 8000 0842 0296 4119 4999, or by cash. We will need to know your name, birth year, e-mail address and postal code. Fill in the form here (page is in Swedish) or just send us an email with the information above.
Contact us
Feel free to contact us through any of the listed options below.
| | |
| --- | --- |
| E-mail: | kontakt at cykeljuntan.nu |
| Facebook: | Umeås cykeljunta |
| Instagram: | @cykeljuntan |
| Postal address: | c/o Myrsell, Historiegränd 3 B, 90734 Umeå, SWEDEN |
| Bankgiro number: | 696 5537 |
| Swish number: | 123 510 23 14 |
| IBAN: | SE61 8000 0842 0296 4119 4999 |